Giveaway – mudputty: the place to find and book classes in your local area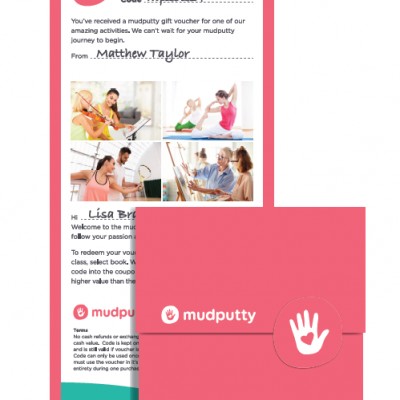 For you chance to win one of 3  $50 vouchers – email competitions@netbaywifi.com.au  with the name of mudputtys founder. Winners will be drawn at random and redemption information will be emailed to you.
You know how searching for classes and activities for you and your family can take hours, and it's frustrating when you don't find what you're looking for?
Well, mudputty is an easy way to find and book activities in your area, saving you time. In fact, when you use mudputty, you spend less time searching and more time doing what you love.
This prize pack includes 3 x $50 vouchers to be used on the mudputty platform. Mudputty has a class for everyone; in categories including art, fitness, cooking classes, language classes, kids classes and many more – you can be sure you will find classes that are unique and exciting to use your voucher on.
How mudputty works:
1. Browse the activities and classes in your area. You can search by keyword, or filter by class location, time, age or category. You can easily view all class details, and read class ratings from other attendees before making your decision.
2. Book and pay for your class using your voucher easily on mudputty
3. Have fun experiencing something new when you attend your class!
Meet the Founder
As a busy mother of two young children, Raeleen discovered that the best activities in her area — for her kids, herself, and family — were the hardest to find.
She spent hours searching for the perfect class, or something fun for the weekend, only to come up empty-handed. Later, she'd hear about an amazing activity through word-of-mouth and wonder why nobody knew about it.
What's more, she saw fantastic teachers struggling to fill classes. They wanted to share their gift with others, but the business side of teaching was time-consuming.
That's what sparked the idea for mudputty: a central place to connect a community of people who love to learn and live their passions.
Links
Website: mudputty.com
Facebook: https://www.facebook.com/mudputtyAustralia/