FIVE SCENIC HIKES TO DISCOVER THIS SEASON THAT ARE JUST A SHORT DRIVE FROM MELBOURNE
Melburnians get the best of both worlds — city and country. Within just two hours from our buzzing metropolis lies magnificent waterfalls, towering peaks, tranquil bays and ancient rainforests. Next time you need a breath of fresh air and some spectacular scenery, jump in the car and drive yourself to one of the nearby hiking trails.
To help you decide on a location, we've whipped up a list of the best scenic hikes in regional Victoria. The best part is, they can all be achieved in a day — from the Mornington Peninsula's sparkling Two Bays adventure to the Otway's many enchanting cascades. These walks are all both beautiful and doable.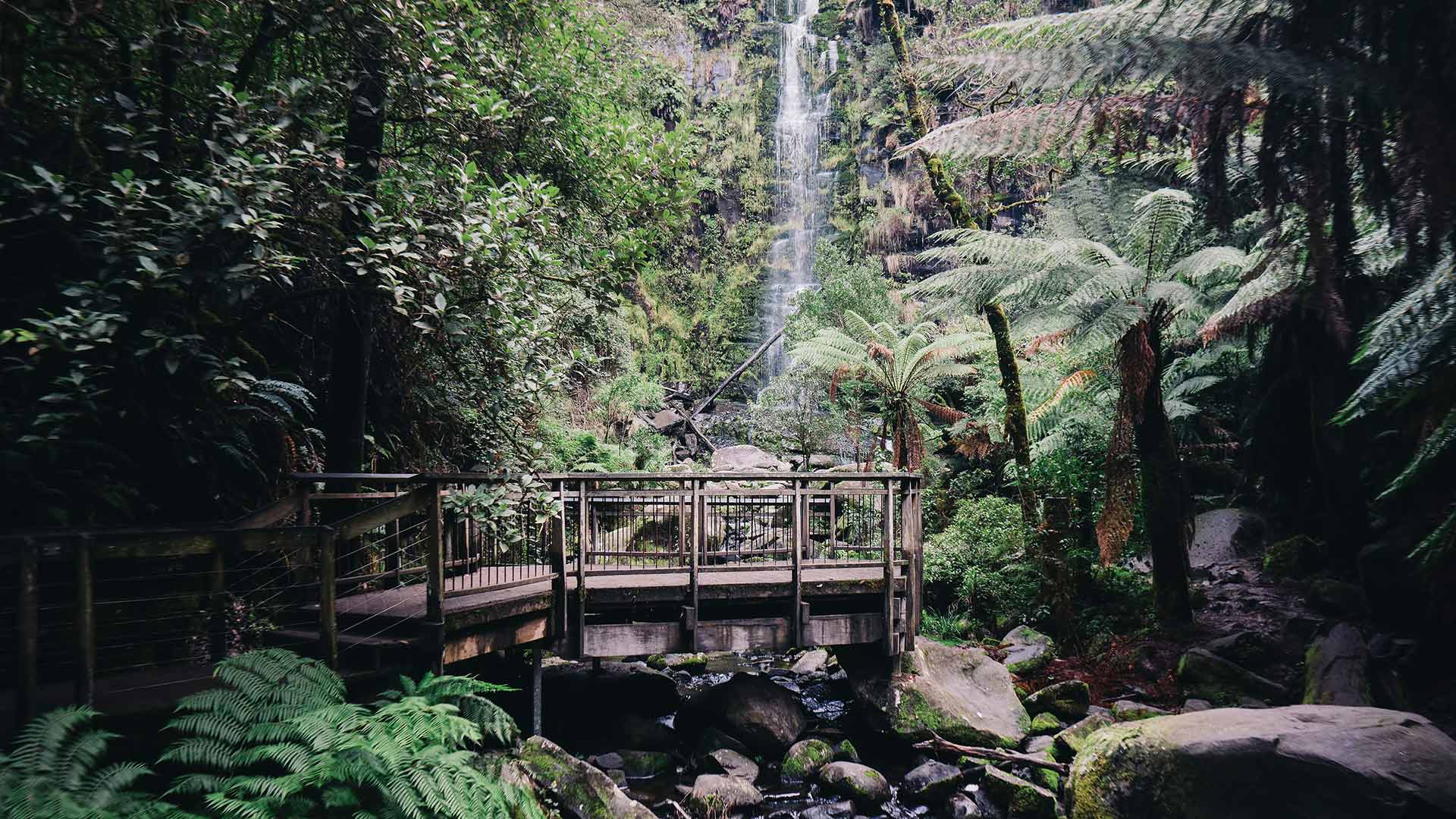 ERSKINE RIVER TRACK, GREAT OTWAY NATIONAL PARK
The Great Otway National Park scores more rainfall than most other parts of Victoria, so, it's a waterfall chaser's gold mine (sorry, TLC). Among the most popular are Erskine Falls, whose 30 metres of water tumbles into a lush gully along Erskine River. The falls mark the beginning of the Erskine River Track, an adventurous 7.5-kilometre trail that involves several river crossings and log bridges. Along the way, you'll pass through the natural amphitheatre of the Sanctuary, as well as two other waterfalls — Straw and Spitter — before reaching the river mouth at Lorne. Shorter strolls include the one-kilometre walk to Hopetoun Falls, the one-kilometre trail to Carisbrook Falls and the three-kilometre hike to Beauchamp Falls. To cap off the day, stop by the Great Ocean Road Brewhouse and sample one of the 100 beers on offer while enjoying ocean views.
The Great Otway National Park is two hours' drive southwest of Melbourne.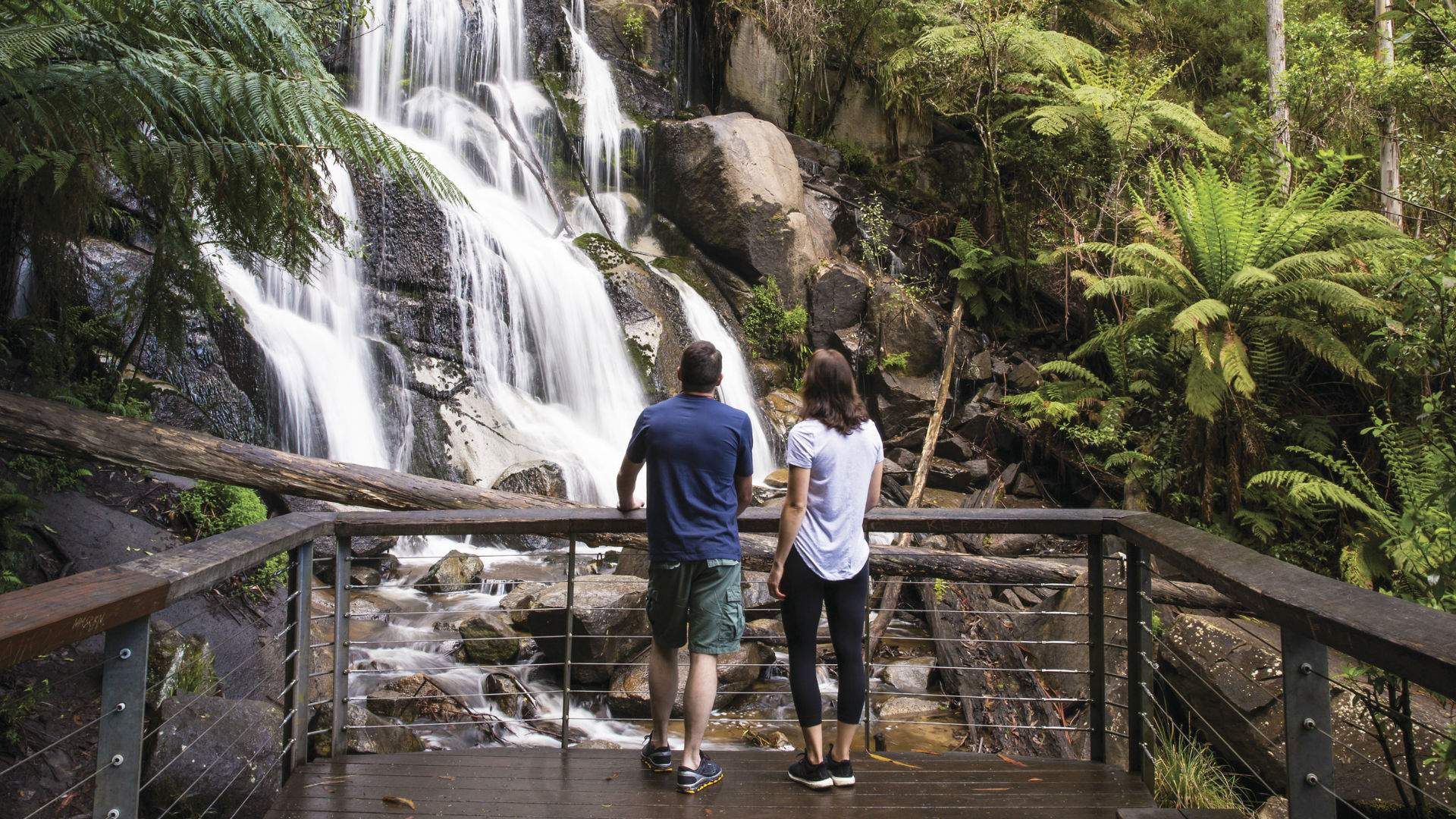 TOORONGO FALLS, MOUNT BAW BAW
You might've seen Toorongo Falls in photos but it's not until you're standing underneath the two waterfalls that you can appreciate the full breadth of their beauty. Encircled by tall gum trees and rainforest ferns, the falls tumble down several rocky cascades into Toorongo River. The easy 750-metre walk passes through thriving bushland where you can expect to meet brushtail possums, sugar gliders and an array of bats. The drive is pretty, too, following Toorongo River much of the way. To make this trip extra special, stop by Stella's Pantry in Warragul, pick up fromage and cured meats and have a post-hike picnic. Or, if you prefer someone else to prepare your fare, head to Frankies in Warragul for delicious cakes and pastries.
Toorongo Falls is situated on Mount Baw Baw, around 90 minutes' drive east of Melbourne.
TWO BAYS, MORNINGTON PENINSULA
As the name suggests, this walk transports you to two of Mornington Peninsula's most picturesque bays but that's far from its only attraction. Along the way, you'll also take in Arthurs Seat's panoramic vistas, dreamy Kings Falls and Greens Bush — a haven for native plants and animals. Keep your eyes peeled for wedge-tailed eagles, honeyeaters, black wallabies and sugar gliders. At 26 kilometres, the Two Bays trek is the longest walk on the Mornington Peninsula. While the trail is relatively close to the city, it's a good idea to leave early so you have plenty of time to explore. And, after you've sweat it out, finish up with a well-earned drink and pub lunch at Jetty Road Brewery.
Two Bays is an hour's drive from Melbourne.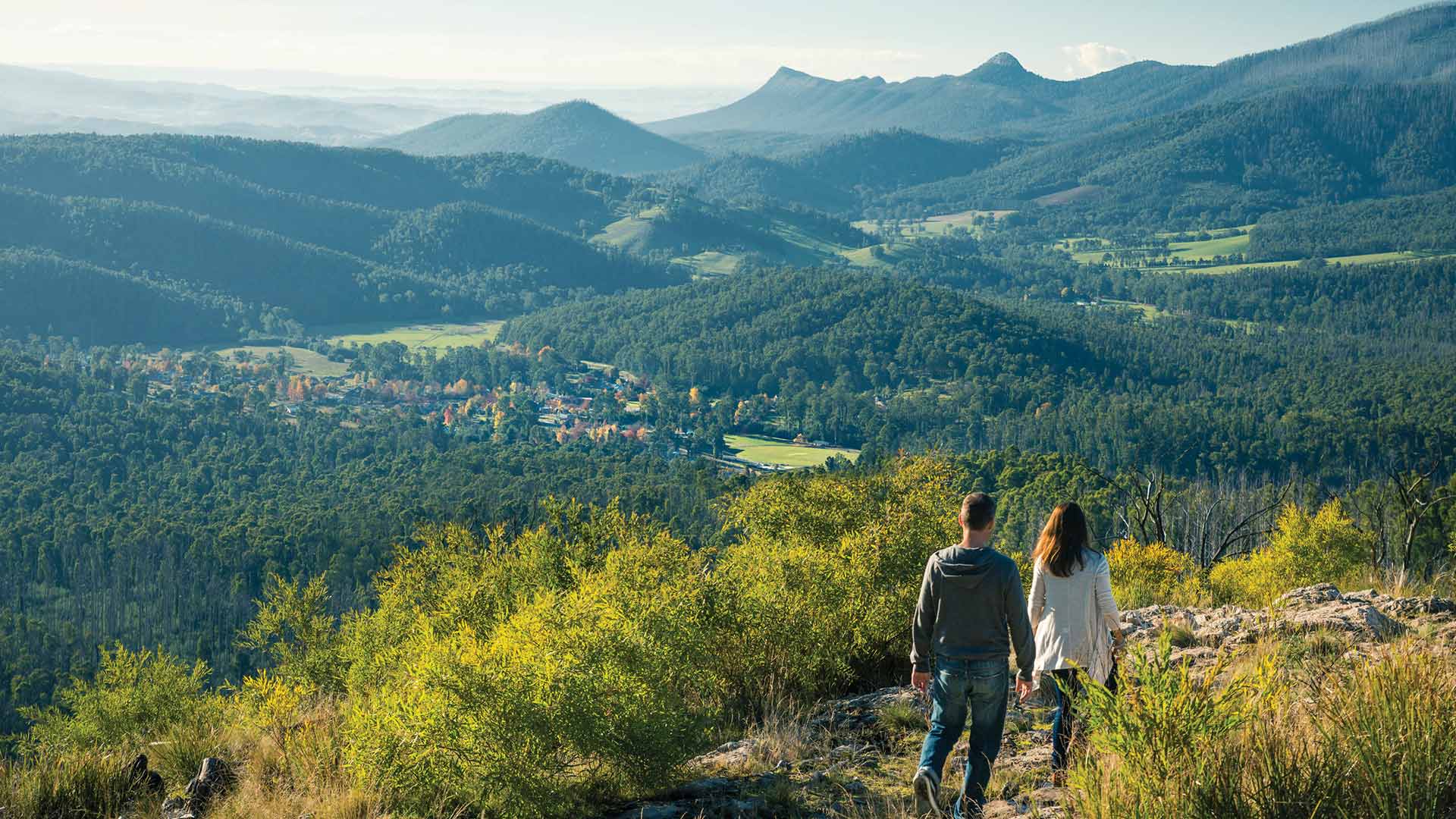 KEPPEL LOOKOUT, DANDENONGS
From Keppel Lookout, you can see half of Victoria. Well, not quite, but it certainly seems that way when you're gazing over the Cathedral Range State Park, Marysville and Steavenson Falls (which, at 84 metres, are the highest falls in Victoria). It's undoubtedly one of the most scenic spots in the state, however, getting there isn't easy. The 11-kilometre loop trail covers quite a bit of steep, uneven terrain, so it's for confident walkers only. If you're looking for a more relaxing escapade stick to Tree Fern Gully Trail, it's a gentle 3.4-kilometre stroll (or cycle) through mountain ash, manna gum and, you guessed it, tree ferns. If you're keen for some tucker after your trek, drop by Kelly's Bar and Kitchen in Olinda and order the Kelly's Notorious Wagyu Burger — it'll sort you out.
Keppel Lookout is around two hours' drive east of Melbourne.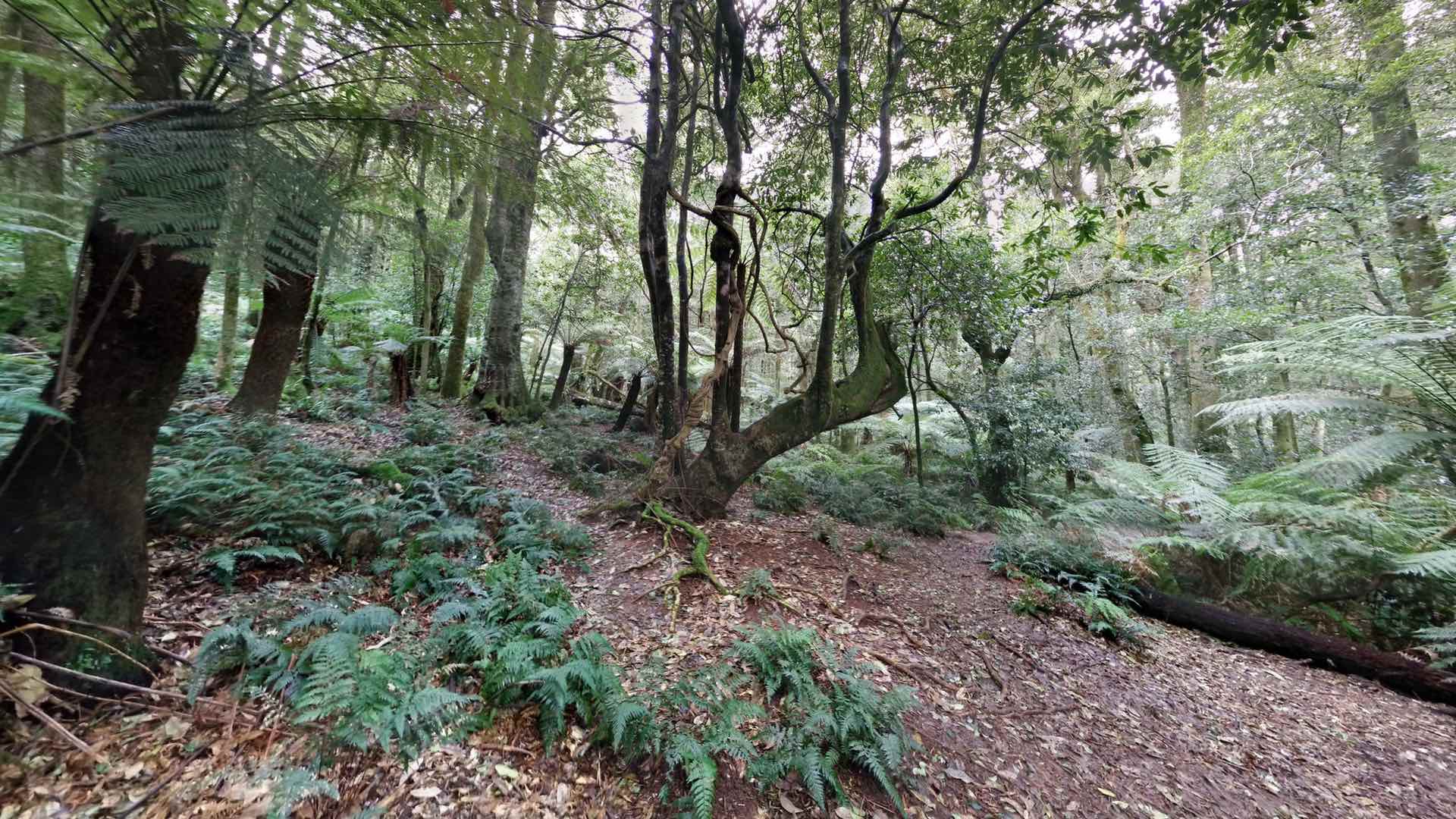 CATHEDRAL RANGE STATE PARK
Cathedral Range State Park gives you 3577 hectares of rugged wilderness to explore. If you need to gain some height and clear your head, this is the place to do it. There are a variety of walks but for varied terrain and stunning scenery, conquer the Cathedral Range Southern Circuit. This 10.5-kilometre journey ascends Sugarloaf, the Cathedrals' highest peak, before following a scenic ridgeline. Fair warning, the trail is pretty steep and sparsely signposted, so you'll need some hiking experience under your belt. Alternatively, you can settle for a shorter and easier jaunt — such as the two-kilometre Friends Nature Trail or the three-kilometre Little River Track —there are plenty of possibilities for all manner of hiker. Take a slight detour on the way home and drop by the Yarra Valley to check out the wineries; you deserve a nice tipple after all that walking.