Aboriginal Melbourne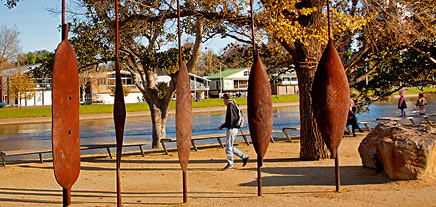 Melbourne has many galleries and museums showcasing Aboriginal culture, including the Koorie Heritage Trust.​
Womindjeka / wominjeka! Welcome to Melbourne.
The City of Melbourne respectfully acknowledges the Traditional Owners of the land, the Boon Wurrung and Woiwurrung (Wurundjeri) peoples of the Kulin Nation and pays respect to their Elders, past and present.
For the Kulin Nation, Melbourne has always been an important meeting place for events of social, educational, sporting and cultural significance.
Today we are proud to say that Melbourne is a significant gathering place for all Aboriginal and Torres Strait Islander peoples.
See also Aboriginal Melbourne on Facebook.
This long-running Aboriginal cultural walk has opened the eyes and hearts of thousands of patrons of all ages and walks of life. Come and be a part of this 2hr cultural experience.
The Boonwurrung and Woiwurrung are the traditional owner groups of the area we now call Melbourne. Find out more about the Kulin Nation's rich, living culture through these places and events.